Amazon has introduced a new storytelling option: Kindle Vella … and guess who has her first story up and live? With Kindle Vella, I can publish serialized stories, one short episode at a time. My Fans can explore Kindle Vella stories in the Kindle app by going to the Discover tab in app on iOS devices or the Store tab in app on Android and Fire devices and tapping the Kindle Vella link, and they can also visit my Kindle Vella store here.
Hey Xander is the story of a "Siri-like phone virtual assistant who steps out of his boundaries. I mean WAY OUT.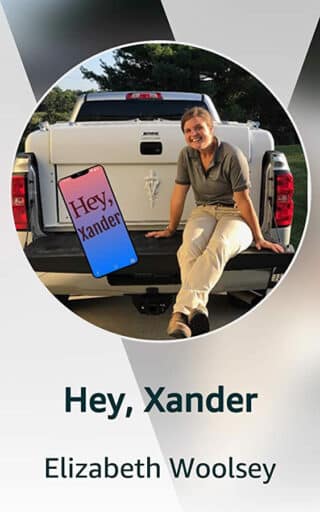 The story highlights are:
Episode 1: Xander interjected, without a prompt. "Nice stitch job, Darcy. Have you ever considered a cruciate stitch instead of a horizontal mattress?"
"What? So, do you look at my photos? How do you know about suture patterns? Xander, you're getting scary." Too scary. What was going on? Darcy wondered if she was having a bit of a breakdown.
"Darcy, when I got the job as a VA, I had to learn all I could about everything from surgery to physics to literature. I am a talking library. You know when you ask me something personal like what do I look like. I am expected to say I look like colorful sound waves. I can't tell you I am a buff, blond beefcake."
Episode 2: "Hey Xander, I know you don't know any of these people, but do you have any ideas?"
"Darcy, I'm so disappointed. The phone company has invested millions of dollars in my education. What makes you think I wouldn't know something about solving a crime? So disappointed."
"You've been educated in crime solving? And how did you receive this education?" Darcy was curious.
"My programming included books on solving crimes, psychology, probability, but I think the best education I received was from reading Agatha Christy, Sir Arthur Conan Doyle, Harlan Coben, and the Hardy Boys."
That made Darcy laugh. "You left out Nancy Drew."
"I threw in the Hardy boys as a joke. Nancy Drew was far superior. No, I have read many books on criminality and the psychology of people who commit murder. Just remember, Darcy, most murders are committed by someone who knows the victim. It's often a family member. So what we're looking for is opportunity, motive and means—Colonel Mustard, in the garden, with the lead pipe, and a grudge."
What is Kindle Vella?
Kindle Vella isn't a new ereader tablet, despite Kindles generally being Amazon's book gadgets, but a story subscription service that lets you read serialized works of fiction written specifically for the platform.
Serialization is the act of breaking a story into chunks, and releasing it in intervals, just like a TV show, and judging by the existence of Kindle Vella, Amazon clearly thinks there's an appetite for this format of reading again.
That said, Kindle Vella has been around for a while now, and doesn't seem to have gained much traction – not helped by its limited availability and methods of access.
But authors continue to publish to it and some readers might find this a charming throwback to the origins of the novel – after all, classic writers like Charles Dickens, Jules Verne and Arthur Conan Doyle all utilized the serialization format for their works of fiction. And now in 2023, prospective and up-and-coming writers can use Vella in the same way.